データプロダクトのアナリティクス
Integrate.ioは、誰がデータに触れているのか、ジョブがどのように機能しているのか、対策も併せてクエリとテーブル間の重要な依存関係を発見してくれるなどお客様が知りたいことを教えてくれます。
Finally understand
Your Warehouse Spend
データプロダクトアナリティクスが必要な理由
データ分析チームは、従来のレポートやBIからビジネスオペレーションや新しいデジタルソリューションと統合するデータ製品の構築に重点を移すようになっています。この変遷は、ゼロアドミンウェアハウス、データモデリング、専門化という3つの大きなトレンドの帰結です。データが製品になった今、分析チームは、作成したデータにユーザーがどのように関わるかを理解し、顧客体験を管理できるようにする必要があります。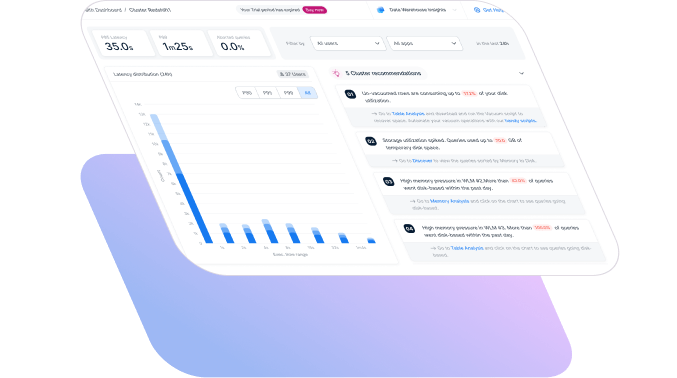 自動で取得
Integrate.ioは、ジョブ、テーブル、ユーザーのメタデータを自動的に取得し保存するので、探しているものを正確に見つけることができます。
トライアル申請
お気に入りのツールと統合
Integrate.ioは、データウェアハウスに接続するエンドユーザーとモデルの身元を特定します。SQLテキストをイントロスペクトし、ジョブのプロパティとしてメタデータを保存することで動作します。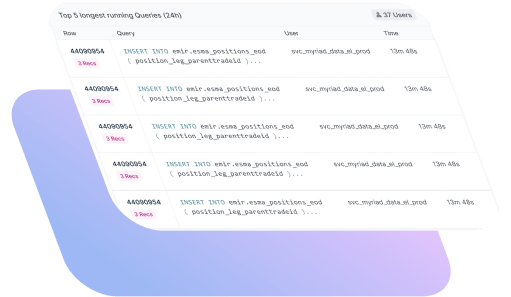 テーブルの依存関係
クエリパーサは、クエリが接触するテーブルやコラムを表示するため、ユーザー、モデル、テーブル間の依存関係を確認することができます。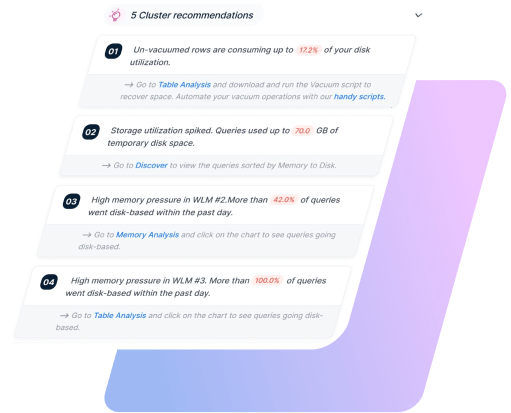 Data Warehouse Insights
Platform Capabilities
Warehouse Auto-Capture
Automatically capture & store jobs, tables, and users metadata to analyze everything important happening in your warehouse
Seamless Integrations
Unmask end-user identity and models connected to your warehouse by introspecting SQL text and storing the metadata as a job property
Table Dependencies
Visualize the tables & columns your queries touch to see dependencies between users, models, and tables with our query parser
Behavioral Analysis
Optimize data with a cohort analysis to surface trends in access patterns and how users engage with that data over time
No-Code Setup
We don't ever access your data because our SaaS product collects metadata from your warehouse with zero coding
What Our DWH Insights
Customers Say...
"Great product and support team! We were looking for an easy way to compile/manipulate large amounts of data from a number of sources. Integrate.io has made prototyping and development easy, fast, and reliable."

"Valuable service, great support. We recently completed a very complex data import from Salesforce for a customer that allowed us to solve a problem for them that no other company could."

"Great Experience! Talking to two different systems to get valuable data is so helpful to our organization."
Our documentation and set up guide are available
here
.

All subscriptions are yearly subscriptions with annual payment.

Customers can pay for their subscription by credit card or by bank transfer. Bank transfer invoice payment terms are Net 30.
自動かつスケーラブルで信頼性の高いETLで開発者の時間を無数に削減できます。
最先端のセキュアETLです!