데이터웨어하우스 분석
Integrate.io는 누가 데이터를 작업하고 있는지, 태스크가 어떻게 작동하는지, 쿼리와 테이블 간의 종속성 등을 상세하게 가시화시켜 줍니다.
Finally understand
Your Warehouse Spend
데이터웨어하우스 애널리틱스가 필요한 이유
데이터분석팀의 역할은 전통적인 보고서 및 BI운영에서 비즈니스 운영 및 새로운 디지털 솔루션을 통합하는 데이터제품 개발으로 바뀌어왔습니다. 이 변화는 제로 어드민 웨어하우스, 데이터 모델링, 데이터 전문화라는 세 가지 큰 추세의 결과입니다. 데이터가 제품이 된 지금, 분석팀은 사용자가 데이터와 어떻게 연관되어지고 있는지 이해함으로서, 고객 경험을 관리할 수 있어야 합니다.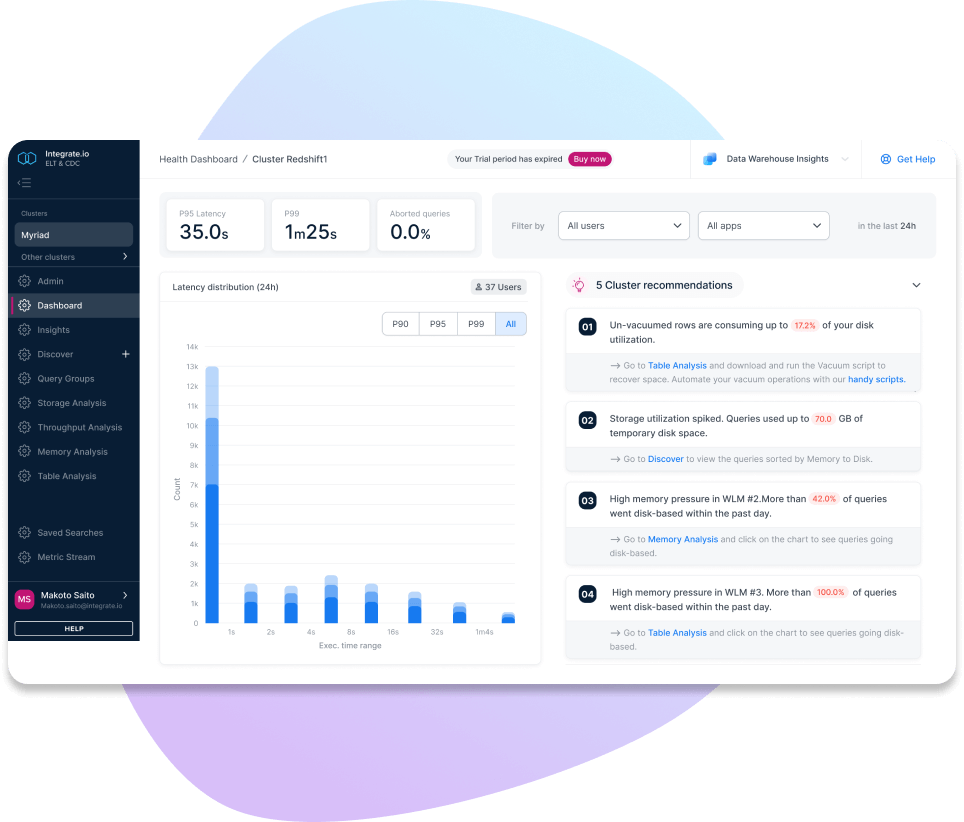 자동 데이터 수집
Intermix.io는 작업, 테이블 및 사용자 메타데이터를 자동으로 검색하고 저장하므로 원하는 것을 정확하게 찾을 수 있습니다.
무료체험판 신청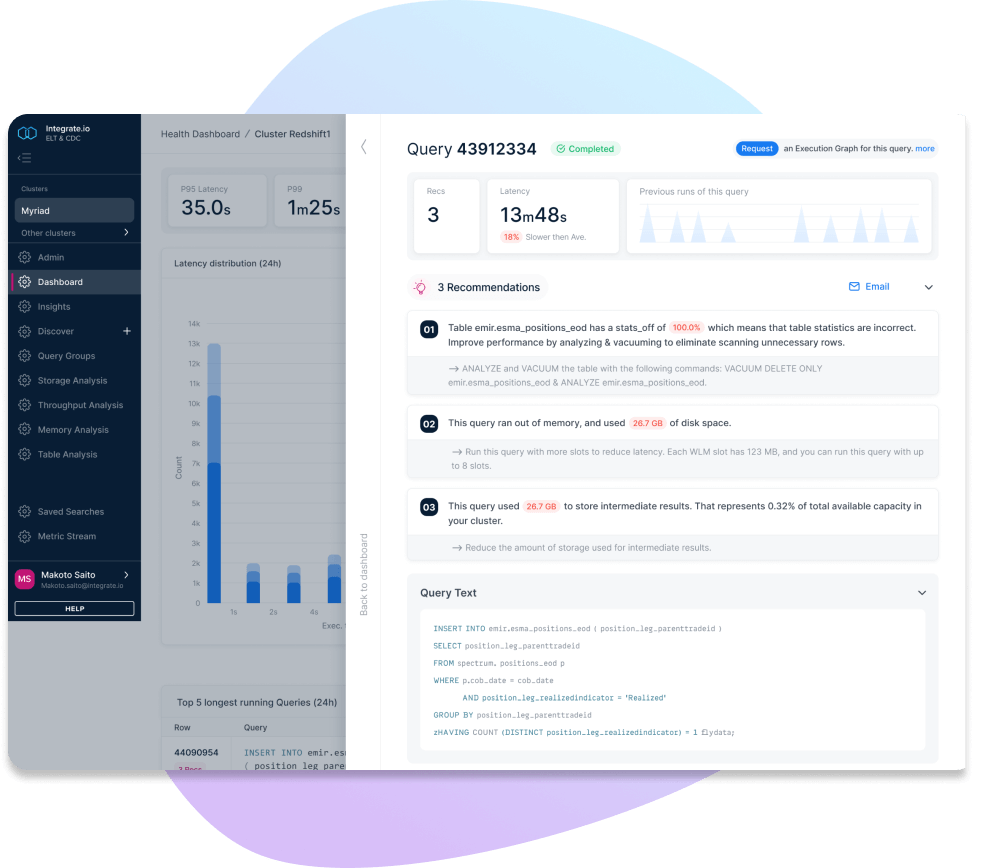 즐겨찾는 툴들과의 연계
Integrate.io는 데이터웨어하우스에 연결하는 최종 사용자 및 모델의 ID를 식별합니다. SQL 텍스트를 관찰하고 작업 속성으로 메타데이터를 저장하여 작동합니다.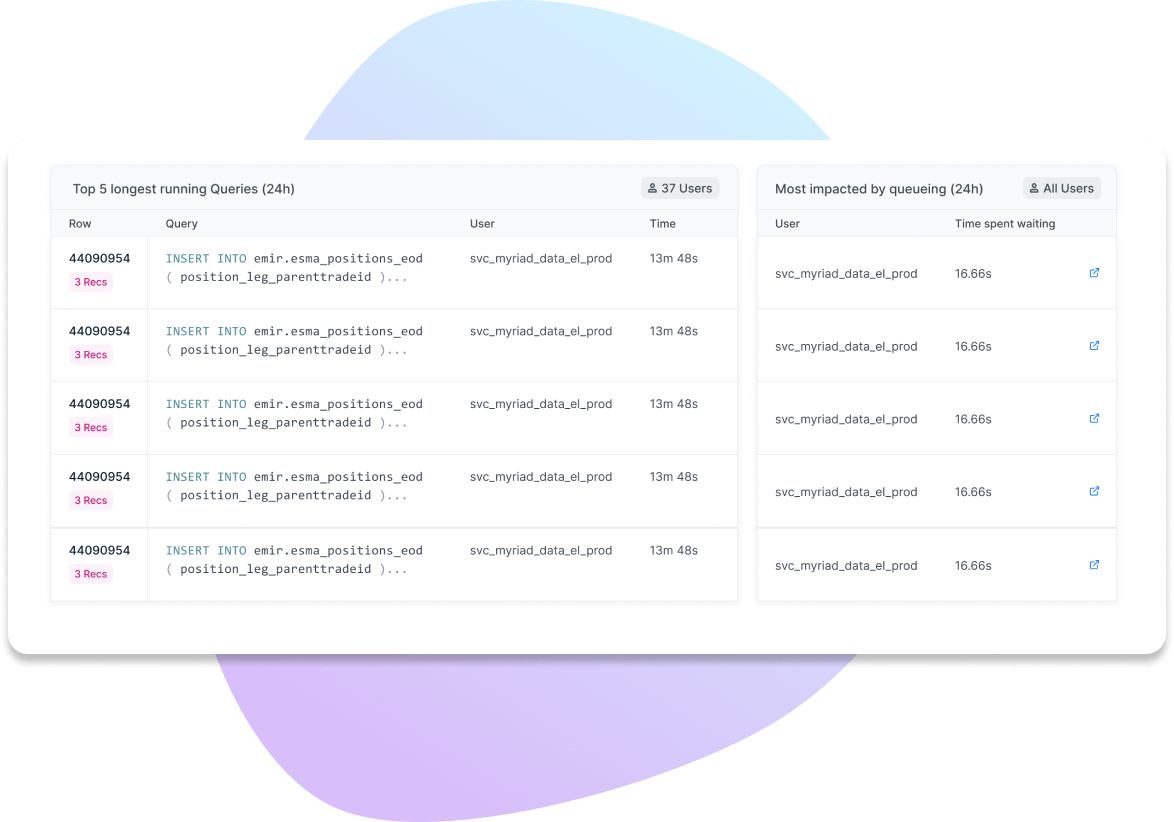 테이블 종속성
쿼리 파서는 쿼리가 이용하는 테이블과 열을 표시하므로 사용자, 모델 및 테이블 간의 종속성을 확인할 수 있습니다.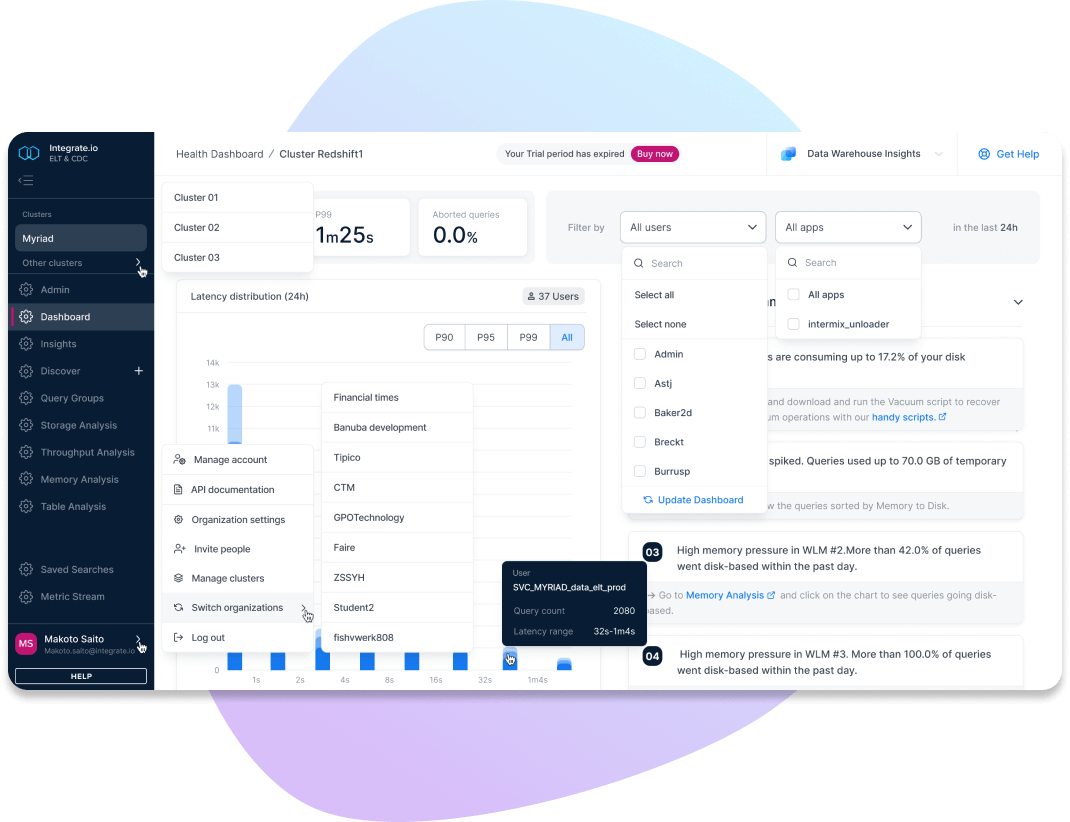 Data Warehouse Insights
Platform Capabilities
Warehouse Auto-Capture
Automatically capture & store jobs, tables, and users metadata to analyze everything important happening in your warehouse
Seamless Integrations
Unmask end-user identity and models connected to your warehouse by introspecting SQL text and storing the metadata as a job property
Table Dependencies
Visualize the tables & columns your queries touch to see dependencies between users, models, and tables with our query parser
Behavioral Analysis
Optimize data with a cohort analysis to surface trends in access patterns and how users engage with that data over time
No-Code Setup
We don't ever access your data because our SaaS product collects metadata from your warehouse with zero coding
What Our DWH Insights
Customers Say...
"Great product and support team! We were looking for an easy way to compile/manipulate large amounts of data from a number of sources. Integrate.io has made prototyping and development easy, fast, and reliable."

"Valuable service, great support. We recently completed a very complex data import from Salesforce for a customer that allowed us to solve a problem for them that no other company could."

"Great Experience! Talking to two different systems to get valuable data is so helpful to our organization."
Our documentation and set up guide are available
here
.

All subscriptions are yearly subscriptions with annual payment.

Customers can pay for their subscription by credit card or by bank transfer. Bank transfer invoice payment terms are Net 30.
자동화되어 확장 가능하며 안정적인 ETL파이프라인으로 개발자의 공수를 극적으로 줄여줍니다.
최첨단 SecurETL입니다!