将来の製品のために翼をつける!
企業のデータソースのためのAPIを即座に生成
The leading on-premise
Instant API Generation Platform
エンタープライズデータソースのためのAPIを即座に生成します。
SnowflakeやHadoopなどのビッグデータサービスを含む20以上のネイティブデータベースコネクタのための安全なREST APIを瞬時に生成します。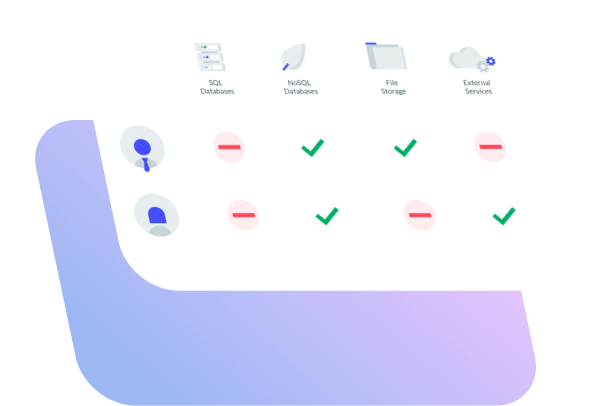 ネットワークAPIの生成と管理
サードパーティのREST APIを含む一般的なネットワークデータソースのためのセキュアなREST APIを瞬時に生成します。
トライアル申請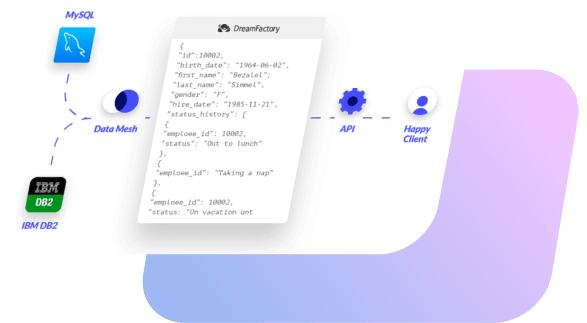 高度なAPIセキュリティ
一般的な認証サービスを即座に統合し、既存のID管理システム内でAPIセキュリティを強化できます。API量の制限とログを実施し、カスタムダッシュボードによる監査を可能にすることで、GDPRやHIPAAなどのポリシーに準拠したデータコンプライアンスを確保します。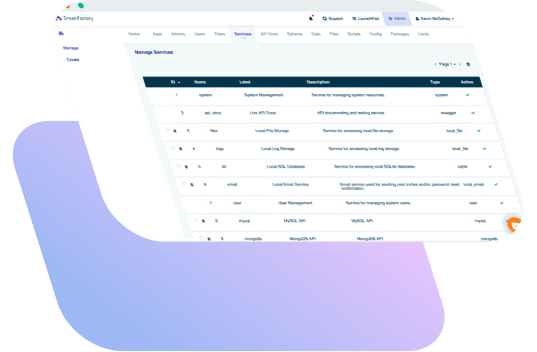 APIスクリプティング
エンドポイントの難読化、ワークフローの自動化、通知更新のスケジューリングなどプロセス前後のスクリプトを自由に作成できます。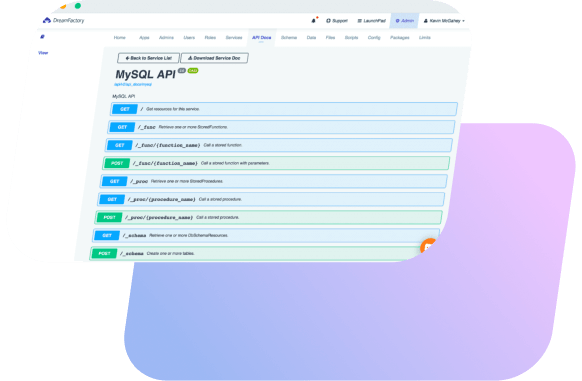 API GENERATION
Platform Capabilities
Automated API Generation
A fully documented REST API generated from any source in less than 5 minutes.
Complete Customization
A powerful API Management layer also lets you customize APIs to your requirements.
Flexible Authentication
Full support for all major authentication including Active Directory, LDAP, & OAuth.
Simple Custom Scripting
Transform the data in your endpoints & sources by creating custom scripts in PHP, Python, Python 3, or Node.JS.
Advanced Data Mesh
Use one API call to create virtual relationships between databases and perform operations.
What Our API Generation
Customers Say...
"API Generation streamlines everything and makes it easy to concentrate on building your frontend application. I found something that was just click, click, click.....connect, and you're good to go!"

"Fastest and easiest API Management tool my department has ever used. We used DreamFactory to build the REST APIs we needed for a series of projects and were able to save tens of thousands on the developer hours it would have taken otherwise."

"DreamFactory's easy API solution to put on our db's makes life really easy. Gets us our data quickly and easily."

Integrate.io API Generation is a self hosted solution which can be installed in any cloud or internal environment. We offer multiple deployment options including easy installers for Windows, Linux, and Docker.

Because Integrate.io API Generation is a self hosted solution, we impose no volume limits. That's Unlimited API creation, unlimited service integration, unlimited API calls, and unlimited user seats. The only limitation is your imagination!

Integrate.io API Generation can be infinitely scaled simply by allocating the appropriate resources and by load-balancing your server environment. We also offer Enterprise Support for large-scale Kubernetes deployment.

During trial, we will assign you an engineer who will work with you to install and configure your services for project success. Post-purchase that same engineer will stay with you for 30 days to onboard your team and make sure you're all set up! We also offer email, chat, and phone support in the US, Tokyo, AU, and India.

A single license can only be installed in a single environment. From there, we offer infinite scalability through the load balancing of that server environment. We also offer secondary licenses (dev/QA/HA) at a reduced cost as well as options for bulk licensing discounts.

We offer secondary licenses at a drastically reduced cost that provides the same functionality as your production license.

Yes! We can unlock any additional modules/features at any time to keep your project on track.