Data Warehouse Integration Platform Designed for E-commerce.
Turn your data warehouse into a data platform that powers all company decision making and operational systems.
7-day trial • No credit card required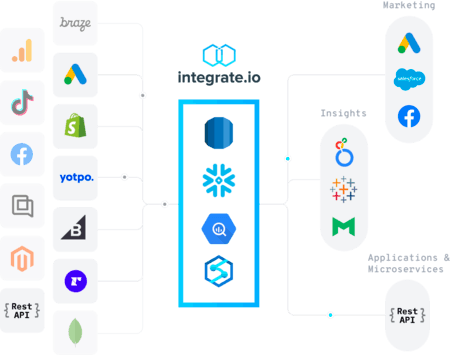 TRUSTED BY THE WORLD'S BIGGEST COMPANIES
Build a Customer 360 view
Integrate powers better decision-making and customer experience for omni-channel companies, resulting in faster and more profitable growth.
Single Source of Truth For Making Data-driven Decisions
E-commerce is a fast-moving industry. Companies need real-time reporting to operate and grow their business.
Improve your customers experience with better operational insights
Real-time inventory, fulfillment, and carrier performance reporting to build reliable forecasts and uncover operational efficiencies.
Data is becoming the beating heart of the modern Enterprise.
Trusted by the world's leading e-commerce brands
The world's leading e-Commerce companies know that the data warehouse needs to be the center of the operation in order to drive fast and profitable growth.
"Integrate is a critical tool in our data stack, handling all of our integration needs and allowing our team to maximize their time spent on data analysis rather than data preparation."
"We needed a globally scalable solution to optimize our communication channels between headquarters and our retail store teams. After researching various options, we found the Integrate.io platform to be the most powerful."
More and more e-commerce companies are operationalizing their data in the data warehouse to power 3rd party cloud applications.

Turn your data into the lifeblood of your organisation.
7-day trial • No credit card required