No-Code Data Pipelines
&
Transformations
Easily prepare & transform your data with our powerful drag and drop interface
The industry's easiest
No-code ETL & Reverse ETL Platform
Single Source of Insights,
Ultimate Flexibility
Unify all of your customer data, save time, and improve analytics to maximize your growth. Ingest data from any source then use 220+ transformations to push that data to warehouses, databases, or operational systems
True Low-Code
Data Aggregation
Let technical and non-technical users easily build and manage data pipelines in minutes. Go low code or use our rich expression language, advanced API, and webhooks to customize and extend your data stack.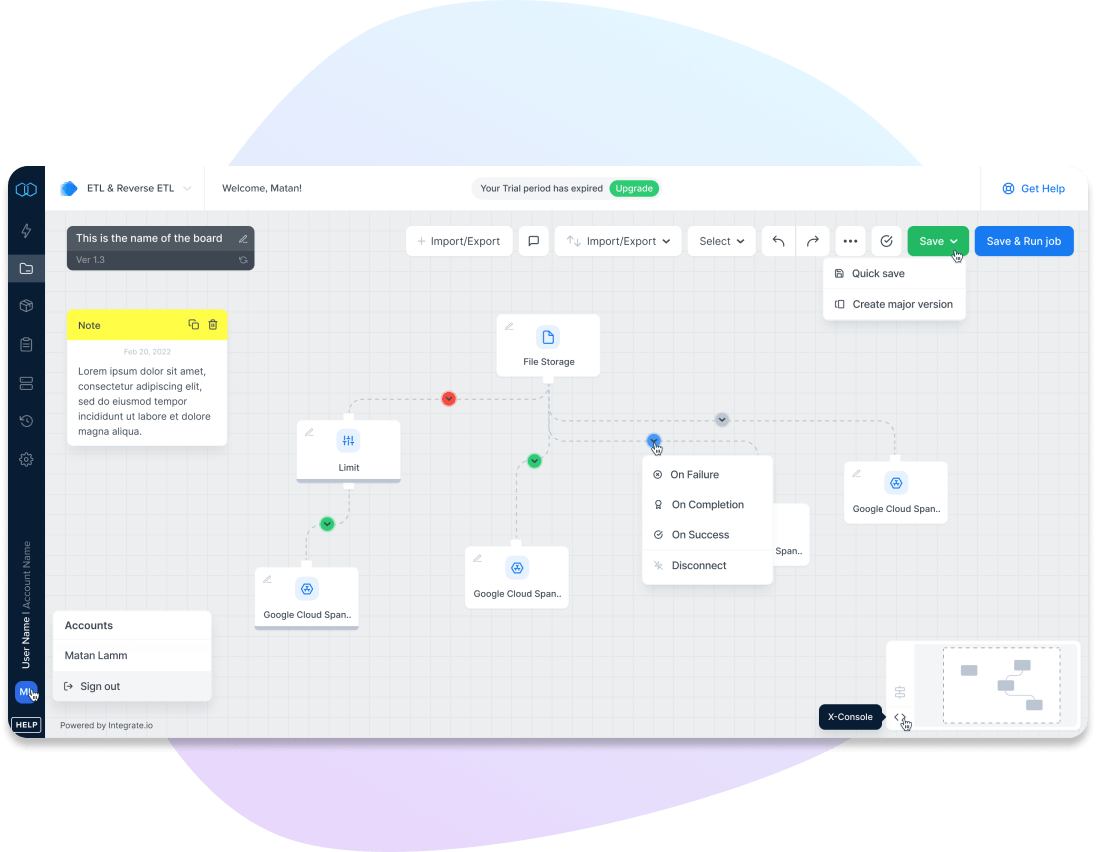 Your Warehouse -
The Heart of Your Organization
Enable intelligent, real-time decision-making with insights from simple low-code Reverse ETL and action those insights while the platform scales to meet all of your data and use case needs.
ETL & Reverse ETL
Platform Capabilities
Connect Your Data
Hundreds of prebuilt connectors & a highly customizable Universal REST API builder.
Execution
Simple workflow creation for any dependency, on multiple pipelines
Scheduling
Accommodate any pipeline scheduling requirement (from every 5 minutes on) with our Cron expression builder
Flexible Usability
Use our simple UI or programmatically execute jobs using our externally-facing REST API.
Automatic Transformation
Over 220+ low-code transformation options to deliver on any data requirement.
Monitoring & Alerts
Easy alerts to ensure your pipelines are running as scheduled
Scalability
Effortlessly scale from hundreds of rows to tens of billions, and configure clusters by adding nodes to increase the processing power.
What Our ETL & Reverse ETL
Customers Say...
"No Code ETL Jobs and Data transformations
It's solving problems to integrate systems easily and there is no separate documentation needed as it's already very well built on the UI"

"Using Integrate.io has been a really good experience. The extremely user-friendly UI lets us create data pipelines without coding."

"Agile data pipelines that can integrate with any source! Very fast to implement and connect ETL & Reverse ETL to and from any API or datasource."

A package can be scheduled to run from every 5 minutes (on Enterprise plan) to whatever time frequency is needed. However, to avoid a build up of incomplete package runs, the schedule frequency should be set to a time greater than the time it takes that given package to run.

In general, up to 3 packages can run concurrently. When there are greater than 3 packages scheduled to run, the remaining packages will run once the cluster resources become available as the packages already running finish.

Yes, additional cluster resources can be purchased ($1,000/cluster/month) to allow more packages to run concurrently and/or to allow packages to run faster where possible.

Yes, we offer both Professional Services plans based on your needs as well as a Cruise Control option where we build and maintain your pipelines for you.
Chat With Us About Trying
ETL & Reverse ETL
Speak with a Product Expert about using ETL & Reverse ETL to help solve your data challenges