MuleSoft is a comprehensive integration solution that provides a wide range of capabilities, including API management, ETL/ELT processes, hybrid deployment options, and seamless connectivity between applications, microservices, cloud services, and IoT devices.
Integrate.io is a cloud-native ETL/ELT platform that focuses on ease of use, affordability, and quality customer support. Integrate.io offers enterprise-grade transformation capabilities at a fraction of the cost, all while empowering non-technical teams to create complex data workflows and mappings.
The biggest differences between MuleSoft and Integrate.io relate to ease of use and cost. MuleSoft users need extensive training and experience to operate the platform – and because it offers so many features and capabilities, MuleSoft is expensive. In contrast, Integrate.io users don't need any training or experience to build powerful ETL pipelines in minutes – and because it focuses on being the best at one service (user-friendly ETL), Integrate.io is a lot more affordable.
The question is: Are Integrate.io users giving something up when they choose Integrate.io over more expensive alternatives like MuleSoft? 
Our top 5 takeaways are:
A good platform offers an intuitive user experience that allows users to get up to speed quickly, increase data workflow quality, and decrease training costs and barriers to entry. 
The availability of pre-built connectors and out-of-the-box transformations significantly increases the value and usability of a data integration platform.
User-friendly ETL/ELT platforms are designed for ease of use and affordability, making them accessible to non-technical and technical users.
Pricing structures for integration platforms vary, and businesses should carefully consider the long-term cost of ownership.
Customer support quality is a key consideration when selecting an integration platform. It's important to review customer support options before purchase to ensure you'll be properly supported when using a new tool.
In this guide, we'll help you answer this question by looking at these two platforms from a number of comparative angles such as price, user interface, functionality, and customer support. We'll also share some illuminating reviews from users of both platforms.
Table of Contents
 Mulesoft vs. Integrate.io Comparison
Let's start with a quick comparison of Integrate.io and Mulesoft: 
| | | |
| --- | --- | --- |
| | MuleSoft | Integrate.io |
| G2.com user score | | |
| Key Features | API management, ETL/ELT, and a wide variety of comprehensive integrations solutions  | Low code/no code ETL/ELT, cloud-native, native REST API connector |
| Pre-Built Connectors | Has pre-built connectors but using the platform requires some technical knowledge | 220+ pre-built connectors for popular sources/destinations |
| Pricing | Expensive platform with three package tiers: gold, platinum, and titanium | Flexible pricing on a per-connector basis |
| Customer Support | Tiered support depending on how much you spend | Live chat, phone, and video support |
MuleSoft vs. Integrate.io Overview
Mulesoft Overview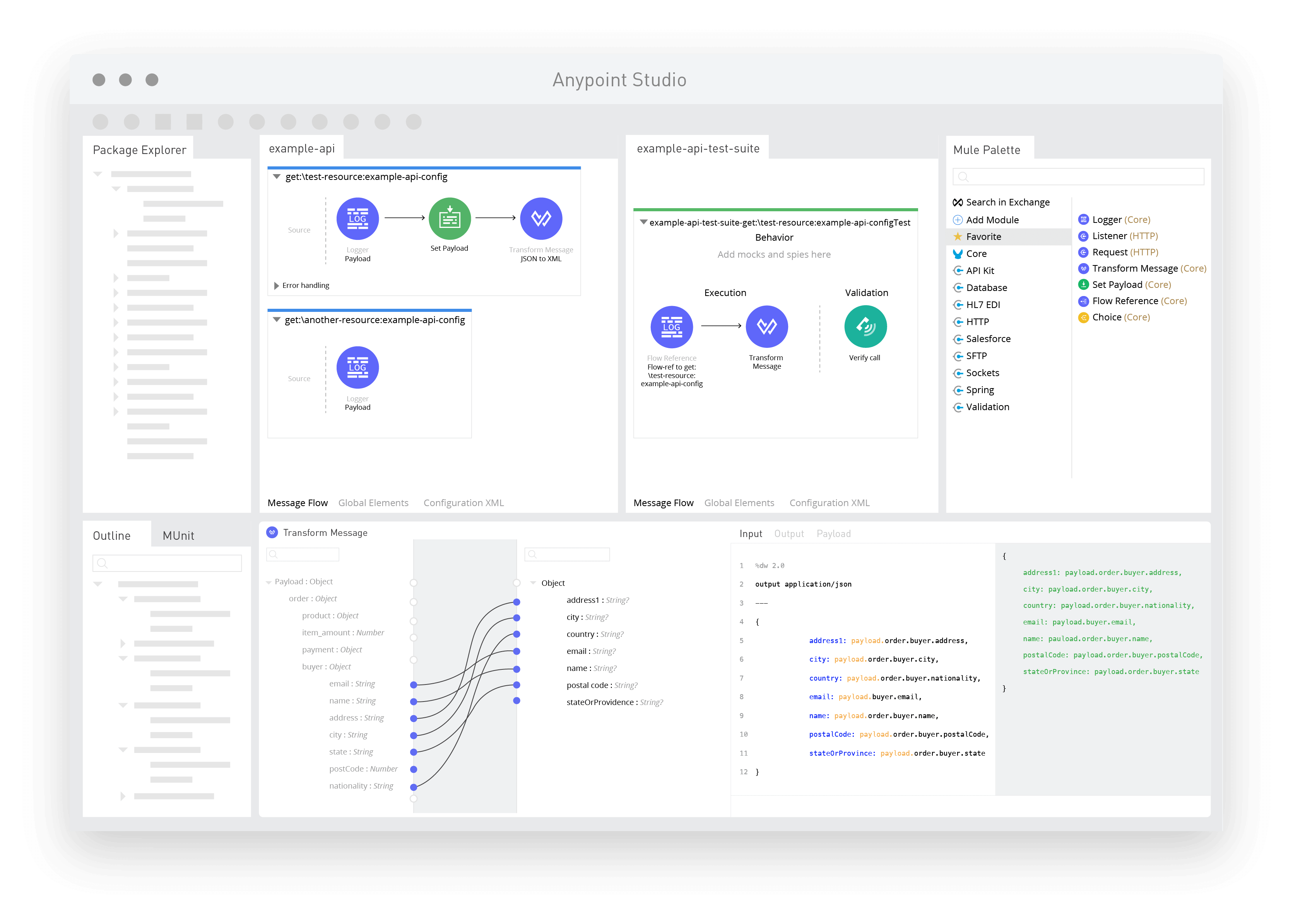 MuleSoft provides a comprehensive integration solution through its Anypoint Platform, catering to various use cases such as API management, ETL processes, and hybrid deployment options, both on-premises and cloud-based.
App integration (iPaaS):

 

MuleSoft's Anypoint Platform, which evolved from the earlier Mule ESB (Enterprise Service Bus), offers an iPaaS (Integration Platform as a Service) to help developers establish connectivity for moving data between applications. Developers can seamlessly connect applications, microservices, cloud services, IoT devices, and more to facilitate the data flow across systems. 
Data integration (ETL/ELT):

 

MuleSoft includes ETL (extract, transform, load) tools to move large amounts of big data between different sources and destinations. Through MuleSoft's "Anypoint Exchange," the company offers pre-built connectors for popular data sources and data warehouses to facilitate integrations. The AnyPoint platform supports various programming languages - like Python, Ruby, Java, and Groovy – giving developers the freedom to code custom integrations.
Salesforce integration:

 

Since MuleSoft is a Salesforce-owned product, it offers a powerful two-way Salesforce integration. You can perform basic create/read/upsert/delete operations, bulk operations on large datasets, and more. 
Other services:

 

Mulesoft offers a wide variety of additional features like an API Manager, Access Manager, Runtime Manager, API/Application Visualizer, and Application Network Monitor.
While MuleSoft offers a broad set of capabilities and benefits, the platform presents four potential challenges:
A steep learning curve:

 

MuleSoft's Anypoint Platform is complex and requires technical expertise to utilize its capabilities fully. For example, building ETL/ELT pipelines in their platform requires skilled resources that may make it challenging for organizations without enough time, budget, or headcount to use the product efficiently.
Expensive:

 

MuleSoft's platform can be expensive since it comes with countless features and capabilities. Small-to-medium-size businesses may be priced out due to the high costs associated with using MuleSoft.
More than you need:

 

For companies trying to accomplish one or two things, like ETL/ELT services, MuleSoft's complex offering could be much more than you require. You may be paying for services that will never be used.
Relies on a desktop IDE:

 

While the COVID-19 pandemic has led to a surge in remote work, MuleSoft developers may face some challenges due to the platform's dependency on a desktop IDE,

 

Anypoint Studio, for advanced capabilities. Although MuleSoft offers web-based tools, they have limited functionality compared to Anypoint Studio. As a result, the reliance on a desktop IDE can make remote work less convenient for developers than fully cloud-based solutions.
At the end of the day, MuleSoft is a powerful platform that large enterprises can use as an all-in-one solution for various integration and API-related use cases. However since MuleSoft is a costly platform, before you devote a sizable portion of your budget to them, it's important to identify your current needs and consider whether MuleSoft's long list of services is required. What exact integration requirements do you need to address, and could you satisfy your needs with a more focused and affordable solution than MuleSoft?
"From the integration architecture perspective, MuleSoft Anypoint represents clearly what you could expect from an ESB with the right platform capabilities to create API stacks the "right way" by following best practices. The licensing costs and contract renewal mechanics have turned in the direction of how Mule's parent company does business. In other words, expect to pay a premium price for an ESB that, if you think deeply about it, is just another ESB in the market."Verified User
Integrate.io Overview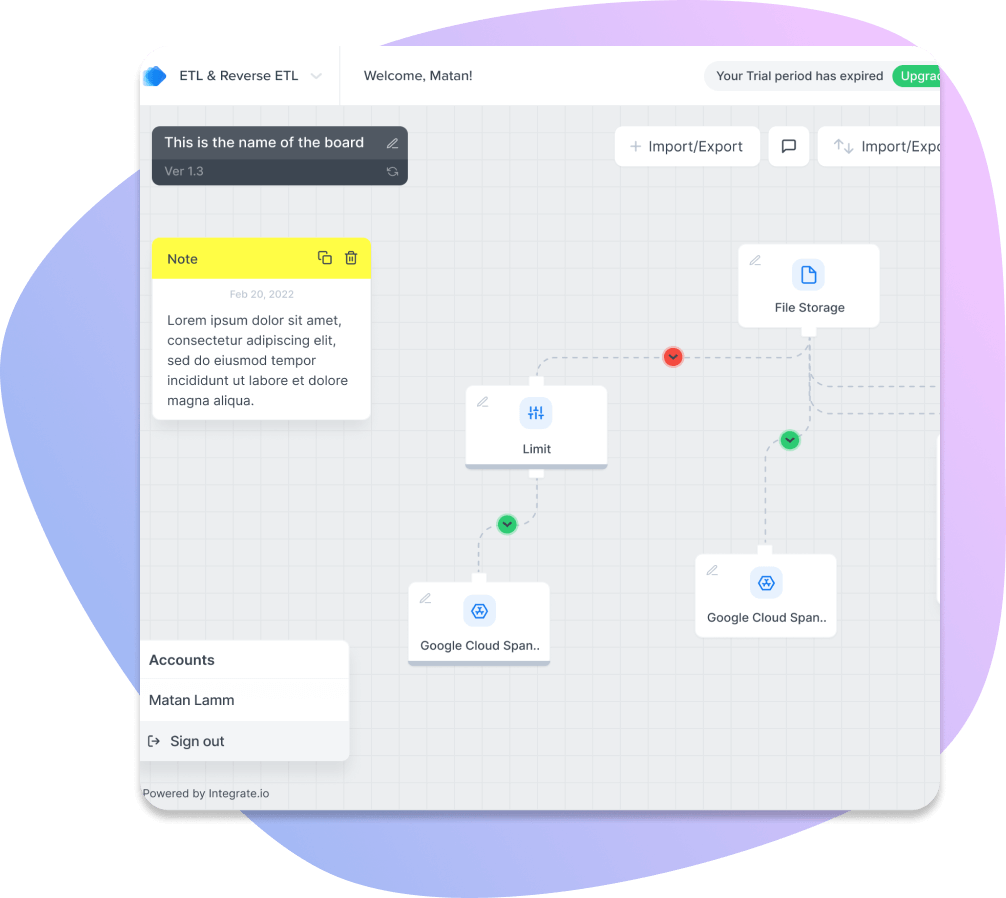 If you want a powerful ETL/ELT platform that focuses every ounce of its efforts on ease of use, quality customer support, and affordability, Integrate.io could be for you. This no-code/low-code ETL platform brings MuleSoft-level ETL capabilities down to earth, providing enterprise-level ETL capabilities at a fraction of Mulesoft's cost, so anyone can create the complex ETL pipelines they need quickly and easily.
Integrate.io is a software-as-a-service (SaaS) application that combines the ease of use of a point-and-click interface with enterprise-grade ETL capabilities. This powerful platform is perfect for ETL beginners, citizen integrators (such as marketers), BI analysts, and other non-technical users who need to create complex data workflows and mappings without having to rely on a data engineer. But that's not all – Integrate.io also offers deep customization options for advanced users, providing sophisticated developers with the flexibility they need to create highly customized ETL pipelines.
Since Integrate.Io is a fully cloud-native, web-based platform, Integrate.io is valuable for remote or hybrid teams. This allows employees to work from anywhere while still giving them the ability to access the data they need securely.
Some of Integrate.Io's most compelling features are:
Fully cloud-native product
No-code/low-code UI for creating complex ETL workflows
Over 220 out-of-the-box transformations and a wide variety of pre-built connectors for the most popular sources/destinations
A native REST API connector
Workflow creation tools for defining dependencies between tasks
Cutting-edge

 

security and compliance
Detailed error logs
Alert emails with no additional configuration
Package portability so you can replicate an existing job to another account
Excellent scalability because aggregations are processed with a dynamically created cluster
On-call chat support via telephone or video
Two-way Salesforce to Salesforce integrations
Integrate.io's Salesforce integration is a standout feature, especially its support for two-way Salesforce-to-Salesforce integration. Typically only available in high-cost integration platforms like Mulesoft and IBM App Connect, Integrate.io allows you to pull data from Salesforce, transform it, and load it back into Salesforce. With powerful transformation capabilities like cross-joining, ranking, sorting, cloning, asserting, limiting, and aggregating, enterprises no longer need to rely on expensive integration platforms. Instead, Integrate.io offers an affordable and user-friendly option for performing complex transformations on Salesforce data.
"There are mostly two types of ETL as a service on the market: one is super easy to use and can migrate your data across services and databases but lacks transformation capabilities, while the other needs full-time data engineers to operate, but tailored solutions are available programmatically. Integrate.io sits in the golden middle letting analysts and engineers deploy custom transformation jobs in minutes based on multiple data sources."
Pricing Structure
MuleSoft Pricing
MuleSoft Anypoint is an ETL solution that comes at a high cost, making it one of the most expensive options in the market. The platform charges by the month, and an annual contract is required. The cost of the platform is dependent on the amount of data extracted and loaded, leading to unpredictable monthly costs that can make it difficult to budget. MuleSoft's pricing is determined by the package and add-ons chosen, meaning that the costs can vary significantly depending on the features needed.
MuleSoft's Anypoint platform offers three tiers— gold, platinum, and titanium — each with different processing power and pricing. The cost of each tier depends on the amount of processing power needed for data extraction and loading and increases with API and integration needs. According to ITQlik, MuleSoft's pricing starts at approximately $80,000 a year, with most enterprises paying closer to $250,000 annually, and some are even spending millions. 
On top of the high platform costs of MuleSoft, you should be prepared for the following auxiliary expenses:
Hiring skilled MuleSoft engineers:

 

To get the full benefit out of MuleSoft, you'll need engineers trained on the platform. MuleSoft engineers who have completed their MuleSoft.U training and certification can be costly.
Long implementation time:

 

It can take one to six months of preparation before fully implementing your MuleSoft integration strategy due to the learning curve and complexity of working with MuleSoft. Integrate.io, however, can be set up and running in a few days.
Ongoing training and certification costs:

 

You'll also incur costs to continuously train your MuleSoft engineers to ensure their skills are top-notch. If a trained engineer leaves, you'll be faced with finding their replacement and covering any related training costs. MuleSoft offers a free, 30-day trial, but this may not be long enough to see if the platform is right for you.
Mulesoft also offers a free, 30-day trial of the platform. 
Here's what users say about MuleSoft's price:
"[MuleSoft] is pricier compared with other products. No pay as you go option. Support engineers are not always competent to solve issues. Support is one big thing that needs improvement. Its becoming salesforce centric losing focus on other aspects of integration."
"Has more features than what we really need so we're paying for more than we use. Sort of like paying for an Abrams tank when all we really need is a Toyota Corolla. Not a value product, [MuleSoft] tends to be expensive.
Integrate.io Pricing
Integrate.io offers a more straightforward and scalable pricing structure. Rather than charging by the volume of data, Integrate.io charges per connector — regardless of data volume. This means your cost will stay the same depending on how many connectors you have.
The predictability of Integrate.io's pricing means you can plan your ETL budget in advance and never have to worry about high data volumes sparking outrageous charges. See for yourself when you sign up for a 14-day free trial. You can even schedule a trial setup meeting where we'll walk you through setup, use, and beyond so you can make the most of your trial time. 
Here's what users are saying about Integrate.io's price:
"The cost of their service is well worth the accuracy, consistency, and time savings it provides. I would recommend them to anyone looking to connect data in CRM systems like Salesforce to SQL databases, and anything in between."
User Interface and Capabilities
MuleSoft UI and Capabilities
If you're building an ETL pipeline, MuleSoft has two platforms to get the job done: Flow Designer and Anypoint Studio.
Flow Designer is a browser-based, no-code/low-code platform for building ETL integrations that includes a drag-and-drop user interface with a wide variety of pre-built connectors. Flow Designer. Flow Designer also offers a list of commonly used, out-of-the-box transformations for common integration use cases.
Developers have complained about feeling frustrated and limited by Flow Designer because of its limited capacity for building complex ETL processes.
Here's flow designer in action:
(Animation Source: Salesforce)
Anypoint Studio is a desktop-integrated development environment that data engineers can use to code the complex ETL processes missing from the Data Flow platform. Anypoint Studio is able to access the prebuilt connectors and operations that are created in Flow Designer. This tool features an XML view so you can code integrations and see the changes to the code on a graphical canvas.
Advanced users can program more sophisticated data transformations using MuleSoft's proprietary expression language, DataWeave. Through an XML configuration model, DataWeave can describe logic and custom code from a variety of programming languages like Groovy, Java, Javascript, Python, and Ruby. 
Anypoint Studio offers the ETL power developers want, although some claim it should be available as a web-based UI. The stiff barrier to entry is a pain point for some developers as well. Extensive training is needed before anyone can use Anypoint Studio and the DataWeave expression language effectively.
Flow Designer and Anypoint Studio users have expressed the following:
"Though [Anypoint Studio] is more informative, sometimes the screen provides so many details, which may not be needed in day-to-day development. As per my experience, 80% of interfaces in an enterprise are simple to medium complex. If it could have been simplified, then it could have been better."
"From a developer's perspective indeed, you will need to invest some time (and money if you want to be a certified MuleSoft developer). The advantage of the Anypoint Platform is the inherent logic and tools that help developers progress fast with projects."
"Sometimes the [MuleSoft] UI is confusing, especially when mocking services. I feel that after the recent upgrade of the web application, some features are not working as well as before. Specifically, the RAML editor is now less intuitive and it's sometimes more difficult to identify errors in the code."
Integrate.io UI and Capabilities
Integrate.io is designed to provide a seamless experience whether the user is a beginner or advanced. The platform's user-friendly interface offers powerful features that simplify data integration and management. Even if you've never used an ETL tool before, after a quick walkthrough with an integration specialist, you'll be able to set up complex ETL pipelines in minutes. 
Integrate.io caters to teams who are not traditionally technical, like analysts or marketing teams, empowering them to build their own ETL pipelines for their specific requirements. We like to call these individuals citizen integrators.
Here's how easy it is to create a transformation workflow with the Integrate.io UI:
Go to the main menu and click "Packages."
Click "New Package."
Click the Workflow option you want from the dropdown.
Select the transformations you want.
Identify conditions that trigger the transformations.
Best of all, if you ever get stuck — or can't figure out how to set up a connection or configure a transformation — Integrate.io's support can show you how. Our integration specialists help you connect to the most uncommon data sources and destinations.
Some of our users have said the following about Integrate.io's UI:
"After evaluating 10 or so ETL providers I went with Integrate.io because their service has a relatively straightforward GUI, but also allows for a fairly sophisticated level of configuration. Most of the time the GUI is sufficient, but I'm also able to script bits and pieces and add custom SQL to handle the weird edge cases or make some of the large transfers more efficient (e.g. using a custom date field). I'm also able to do data transformations as part of the pipeline."
"What I like most about Integrate.io is how easy it is to use and understand. It helps me connect different data sources and manage complicated workflows easily. Their customer support is great and always there to help. Integrate.io can grow with my business, and it works well with other software I use."
"The [Integrate.io] UI is intuitive but you can always use SQL to filter your sources or to create new sets in scheduled packages. Also, there are plenty of built-in functions available. Running costs are not comparable if running your own services on Heroku or Google cloud but its intuitive features save a lot of engineering hours. I would recommend Integrate.io for agile teams having multiple sources of data where data analysts frequently need custom datasets to deliver insights."
"Integrate.io is on PAR with enterprise-level tools."
Customer Support
MuleSoft customer support
The support you receive at MuleSoft depends on your package level. The lower your package, the longer you'll wait before your case is added to the support queue. For example, if you're paying for the gold package and you have a business-critical issue, you'll likely wait one full business day before receiving support.
If you're relying on MuleSoft for anything important, facing an issue that isn't resolved for 24 hours could result in serious business implications. 
Even MuleSoft users with access to customer support aren't always impressed:
"Support from MuleSoft is not sufficient so far. We need to raise a case if we face an issue and average response time from MuleSoft folks is not as fast as I would expect. We have faced this problem a couple of times in my office."
"I'm using Batch Processing extensively for many business processes to achieve real-time data integration. Many times, [I've] faced an issue on Batch Processing [; it] got stuck in the load phase and there was no timely support from Mule."
Integrate.io Customer Support
All Integrate.io customers — no matter their service-level commitment — receive unlimited telephone, video conferencing, email, and text chat support with Integrate.io's highly responsive support team. If you encounter trouble using the platform, want someone to guide you through the process of setting up a connection, or have a few questions, your Integrate.io client representative is always available to work with you closely until the challenge is solved.
Online reviewers describe Integrate.io's support team:
"What we love best about Integrate.io is the near real-time support we get from the team. Integrate.io's point of difference is the customer support we receive. The product itself is good. Easy to use at a high level. The people at Integrate.io are the difference — which is unusual for Cloud proposition. A nice change from dealing with a faceless machine."
"Integrate.io's support has been top-notch by frequently responding, usually within a few minutes of submitting your questions. We have seen that integrate.IO has a "Partner Success" mentality which means a great deal in the day and age of SaaS."
"Integrate.io is an ETL and ELT platform that has helped my data team immensely. Overall the best part is how much they value my company as a client. You can't find that in many ETL companies. I searched many other companies, and I am happy I chose Integrate.io."
MuleSoft vs. Integrate.io: Which is right for you?
Imagine you need to open a hundred boxes, and you can choose between a Swiss Army knife and a box cutter. You'd pick the box cutter because (1) it's made specifically to open boxes, (2) it's a lot less expensive; and (3) there's no reason to pay extra for a corkscrew, leather punch, or can opener when you're never going to need them.
That's the focus of the MuleSoft vs. Integrate.io debate. MuleSoft is the Swiss Army knife of enterprise ETL tools. If you need all those features — if you can afford them and know how to use them — MuleSoft could be the platform for you. 
On the other hand, what if you need a powerful, ETL solution that's affordable, easy to use, and comes with just the tools you need? If that's the case, you're not giving up anything when choosing Integrate.io. It's a more affordable and easier-to-use alternative to MuleSoft, Integrate.io users have a lot to gain.
Try Integrate.io for yourself with a free 14-day trial or schedule some time with one of our experts to address your unique business needs.