The future of data integration is no-code data integration platforms, and we have the research to prove it. 
Insights from Integrate.io's landmark study about no-code platforms:
No-code data integration platforms allow connecting and transferring data between different systems without coding.
Benefits of no-code platforms include increased speed (2.7x), reduced costs ($187,000 on average), improved collaboration, greater accessibility, and faster innovation.
Common features of no-code platforms include a visual interface, pre-built templates, data integration, workflow automation, collaboration tools, security and governance, and analytics and reporting.
No-code platforms make data integration more affordable, scalable, and efficient. They optimize resources, shorten time to market, and enable end-users to integrate data for real-time analytics without coding knowledge.
No-code tools save users time and improve customer experience by providing a simple user interface, drag-and-drop functionality, point-and-click capabilities, templates, and data connectors.
A landmark study of more than 150 clients and prospects reveals that no-code platforms significantly reduce costs compared to those that require complex code. Other benefits include optimized resources, saved time, and streamlined API generation. Learn how no-code data integration will shape the future below. 
Download the full landmark study
What are No-Code Platforms?
No-code data integration platforms allow you to connect and transfer data between different systems and applications without writing any code. For example, moving data from Salesforce (CRM system) to Redshift (data warehouse). By eliminating the need for coding skills, no-code data integration platforms make data integration accessible to business users and enable faster time-to-value, reduce costs, and increase agility in data-driven decision-making.
What are the Benefits of No-Code Platforms?
There are several benefits of no-code platforms, including:
Increased speed and agility: No-code platforms allow users to develop and deploy software solutions faster than traditional coding methods. The visual interface and drag-and-drop tools reduce the time required for development, testing, and deployment.
Reduced costs: No-code platforms eliminate the need for hiring expensive developers, which can significantly reduce the overall costs of software development. Additionally, the faster development cycle and fewer errors can reduce the costs associated with bug fixes and maintenance.
Improved collaboration: No-code platforms provide a shared development environment where non-technical users and developers can collaborate to create software solutions. This can improve communication and productivity across teams.
Greater accessibility: No-code platforms enable non-technical users to develop and deploy software solutions, which can democratize software development across an organization and make it accessible to a broader range of people.
Easier maintenance: No-code platforms often have built-in tools for managing and updating software solutions, reducing the need for manual maintenance and allowing users to make changes quickly and easily.
Faster innovation: No-code platforms enable faster experimentation and iteration, allowing users to test and refine software solutions more quickly and frequently. This can lead to faster innovation and better outcomes.
What are the Features of No-Code Platforms?
Overall, no-code platforms offer a range of features that make it easier for non-technical users to develop and deploy software solutions quickly and efficiently.
Here are some common features of no-code platforms:
Visual interface: No-code platforms often provide a visual interface that allows users to drag and drop components, widgets, and data sources onto a canvas to build software solutions.
Pre-built templates: Many no-code platforms offer pre-built templates and components that users can customize and reuse to speed up development time.
Data integration: No-code platforms can integrate data from multiple sources, including databases, spreadsheets, and APIs, allowing users to create powerful software solutions that use data from different sources.
Workflow automation: No-code platforms often include workflow automation tools that enable users to automate repetitive tasks and streamline processes.
Collaboration tools: Many no-code platforms offer collaboration tools that enable non-technical users and developers to work together on software development projects.
Security and governance: No-code platforms typically offer security and governance features, including user access controls, data encryption, and compliance certifications, to ensure that software solutions are secure and compliant.
Analytics and reporting: Many no-code platforms offer built-in analytics and reporting tools that allow users to analyze and visualize data from their software solutions.
How Are No-Code Data Integration Platforms Shaping the Future?
Previously, data engineers had to build big data pipelines from scratch to move data from one source to another — an expensive and time-consuming task. No-code data platforms make it easier for end-users to integrate data for real-time analytics without coding knowledge. These platforms include a simple user interface, drag-and-drop functionality, point-and-click capabilities, templates, data connectors, and other features that improve the customer experience, enhance scalability, and reduce time for development teams.
Image Source: https://www.locustec.com/blog/no-code-application-development/
Perhaps the biggest benefit of these platforms is how they reduce costs during the data integration process. In Integrate.io's study, no-code platforms were significantly more cost-effective than platforms that required advanced knowledge of programming languages in specific use cases. In fact, no-code platforms reduced:
Overall marketing costs by 64%
Customer acquisition costs (CAC) by 41%
External consultant costs, on average, by $305,000
Integrate.io collected this cost savings data from its extensive customer interviews. As you can see, no-code platforms can make data integration a more affordable prospect for business users. The Integrate.io platform itself generated average cost savings of $187,000 for customers and average cost savings per API of $45,719.
Integrate.io's study also reveals how no-code tools optimize and streamline resources. Engineers are typically required to build and fix data pipelines, taking away resources from software engineering teams. By incorporating a no-code platform into your business processes, you can create clean and secure pipelines without the help of engineers, no matter your skill level.  
Engineers might still be required for some data integration tasks when using a no-code platform. However, these platforms carry out all of the mundane work of integration, leaving engineers to complete only the most complex tasks associated with this process, such as orchestration, data security, and managing data connectors. This approach will maximize output and improve time to market, helping you fulfill your business needs.
Integrate.io's study reveals that:
No-code data pipeline platforms shortened time to market, on average, by 18 weeks.
Users of Integrate.io's cloud-based platform experienced an average time to market of just nine weeks.
Other Benefits of No-Code Tools
In addition to reducing costs and optimizing resources, no-code platform providers save users time, according to Integrate.io's report. Features like no-code data connectors make it possible to move data from a siloed data source like a legacy CRM system to a data warehouse quickly rather than messing around with code technology and having to build pipelines internally from scratch. This speedy approach to data integration just isn't possible with tools that require advanced programming skills. 
In the study, 13 participants said Integrate.io was, on average, 2.7 times faster for creating and releasing integrations and pipelines compared to building them internally. More than a third of Integrate.io users said the platform saved them 20-30 hours a month.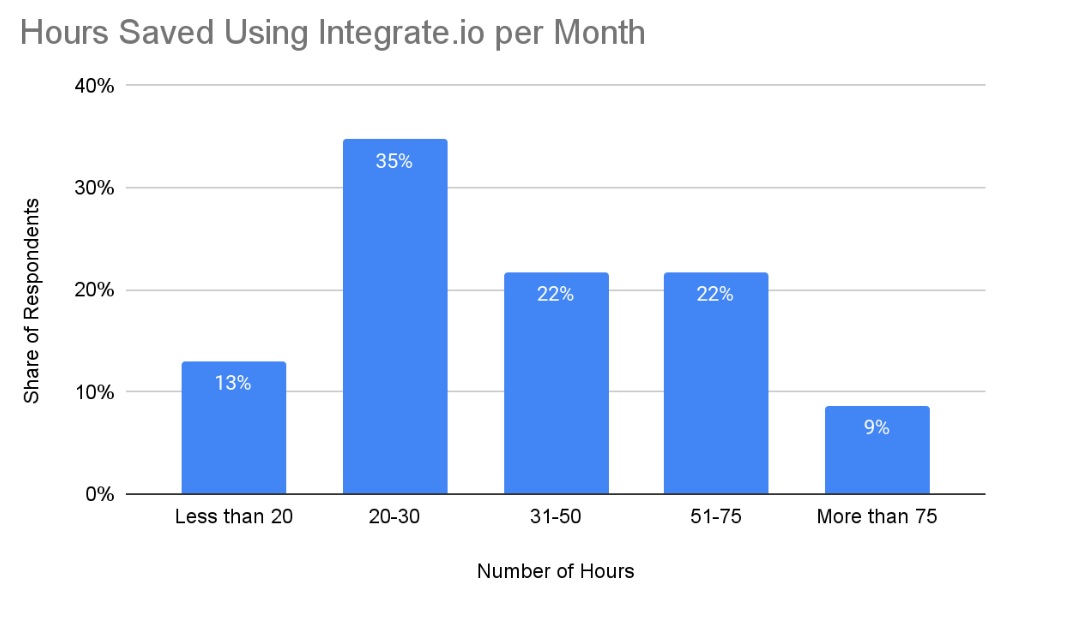 No-code development platforms are also effective for automating API generation, especially REST APIs — a critical component of app development and data pipelines. More than a quarter of respondents in Integrate.io's study said they spend $18,000 or less to build an API. However, 75% of these respondents would save money by investing in a no-code platform that automates API generation for IT teams and improves the development process. Moreover, the average organization could save $45,719 when using a platform like Integrate.io to build secure APIs for business applications and application development.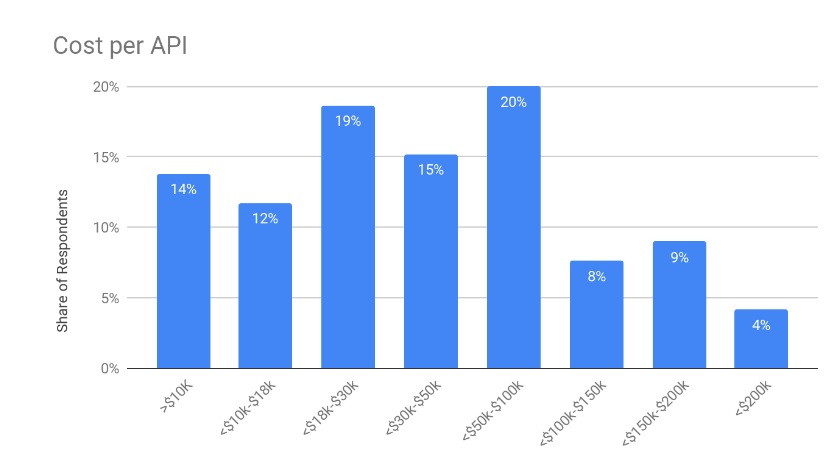 In addition, no-code platforms generate benefits that are more difficult to measure. These advantages include better retention of data specialists. By automating data integration tasks, these professionals can spend time on more interesting and fulfilling tasks rather than manually manipulating data. Organizations can retain their most talented team members and grow their businesses.
Also, by speeding up data integration with no-code platforms, enterprises can make quicker decisions from data insights that benefit their entire business. No longer will they have to wait for IT departments to transform data when a no-code platform does it all for them.
Trends and Limitations for No-Code Data Tools
Gartner predicts the worldwide market for low-code technologies will reach $26.9 billion in 2023 — up from 19.6% in 2022.
Enterprise-wide hyperautomation is one of the factors driving this growth, with businesses looking to automate processes such as data integration.
With no-code tools, organizations can remove almost all the manual work associated with integrating data between sources and speed up the time it takes to analyze data. That manual work includes removing data silos, data entry, data security, and ensuring data complies with data governance guidelines such as GDPR when moving it from one place to another. 
No-code data integration platforms are becoming increasingly automated, a trend that will continue in the future. The best platforms boast features like predictive scaling, runtime forecasting, and proactive alerts, which notify users when data integration jobs fail. Platforms can also auto-detect personally identifying information (PII) such as customer credit card details, making it easier to adhere to data governance guidelines. 
There are still limitations to no-code data integration platforms. You will need to relinquish control of your data to a third party, no matter which platform you choose. Choosing a platform that doesn't value security as much as you do puts your data at risk.
Some platforms also make it difficult for you to scale your data integration projects. That's why it's critical for you to work with a data integration platform provider that provides you with freedom, flexibility, and functionality.
How Integrate.io Helps With No-Code Data Integration
No-code platforms are shaping the future of data integration by reducing costs, optimizing resources, saving time, and automating API generation. Integrate.io's study reveals how these platforms can benefit businesses that want to integrate data without building code-complex data pipelines from scratch.
Integrate.io is a no-code data integration tool that can move your data from one location to another in mere minutes. It's capable of Extract, Transform, Load (ETL), Extract, Load, Transform (ELT), Reverse ETL, Change Data Capture (CDC) and data replication, data observability, and data warehouse insights.
With Integrate.io, you can prepare and transform your data with the platform's drag-and-drop interface and unify data every 60 seconds with the industry's fastest ELT data replication tool. You create a single source of truth for all your organization's data without playing around with complicated code, removing the need for data engineers. Integrate.io also provides a self-hosted secure REST API for API management, helping you generate APIs for your data products.
Businesses like yours use Integrate.io to improve data governance, remove data silos, optimize data quality, increase data security, and generate more insights into data. The platform pulls data from sources and moves it to a second location based on your unique business use case without any manual processes. Download the full landmark study and see how our no-code platform can help you save time and money.