No More IT
Bottlenecks.
Empower

Citizen Integrators.
Line of Business teams should build and manage their data pipelines without having to rely on Core IT.
Remove
IT Bottlenecks
No More Reliance on Core IT

Core IT have enough on their plate without adding more data pipelining tasks to the backlog. Eliminate the IT bottleneck with Integrate.io.

Reduce Time to Data

Not getting the right data, when you need it, where you need it? Let Line of Business teams take complete ownership of data pipelines with a point and click, drag and drop interface.
With Integrate.io, everything is seamless and flexible. You actually enjoy doing data migration. In the past, it was a nightmare, and now you want to push data all the time, and it's very cool.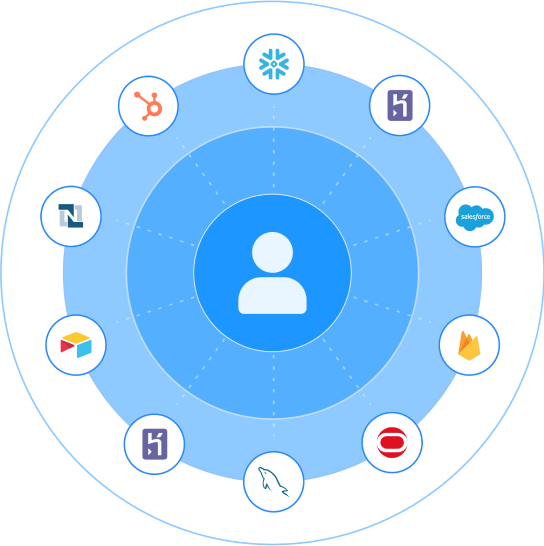 Empower
Citizen Integrators
Complete Data Pipeline Ownership

When Citizen Integrators can build and manage data pipelines, Line of Business and IT teams are in harmony. No more waiting to get fresh data or pipelines updated.

With Integrate.io's no-code data pipeline platform, Citizen Integrators have the integration tools needed for every step of their data journey without having to write a single line of code.
Fanatical
Support Team
Industry-leading Support

Our fanatical support team provides you with 24/7 support through email, chat, phone, and online meeting support. If you need additional support, think of our dedicated team members as an extension to your data team.

Our team takes a tailored approach to your use-case for any problem that arises. Hop on a call, work through over chat, or discuss over email - whichever method works best for you.
Common Integrations
Salesforce
MySQL
Oracle
SFTP
The customer support is one of the best I have experienced. They were very prompt every time I would have an issue...they were able to implement pagination for an API I was using in less than 2 days.
We're committed to delivering the best support in the industry
See our latest support metrics
92%
Customer Satisfaction Score
2m
Average First Response
51m
Average Time to Resolution
Your Citizen

Integrator Guide
In this white paper, we'll discuss everything you need to know about Citizen Integrators, including:
The Citizen Integrator role
The IT challenges this role solves- Organizational models with Citizen Integrators
Data Security & Compliance with Decentralization
Download to learn more!
Get the whitepaper
The Unified Stack
for Citizen Integrators
Connect with us about using our no-code pipeline platform for your entire data journey