Choosing the right data integration tool is crucial for businesses that want to streamline their data workflows, automate processes, and make better data-driven decisions. 
Two popular ETL tools on the market are Airbyte and Integrate.io, each offering unique features and functionalities catering to different data management use cases. 
Here are five things about Airbyte vs. Integrate.io data integration tools you should know:
Both platforms offer ETL/ELT functionality with vast connector libraries.
Airbyte is open-source, while Integrate.io is cloud-based and built with ease of use in mind.
Airbyte offers a free open-source version and usage-based pricing models, while Integrate.io uses flat-rate pricing with no usage-based costs.
Integrate.io offers 24/7 support for all customers, unlike Airbyte, which provides support only for its paid plans.
Integrate.io is easy to use for both beginners and advanced users, whereas Airbyte has additional customization options but a higher barrier to entry.
Through this article, we'll look closely at each tool and detail key features, pricing, customer support, and user reviews to help you choose the right tool to add to your data stack.
Table of Contents
What Is Airbyte?
Airbyte is an open-source data integration platform with a large backing from its community of developers and data engineers. The platform supports ELT and comes with hundreds of pre-built data connectors, many of which are created by the community. 
Since Airbyte is open-source, users can build their own connectors and self-host the platform. 

What Is Integrate.io?
Integrate.io is a cloud-based robust ETL platform that offers businesses an easy and efficient solution to integrate their systems and apps for improved data flow, automated workflows, and real-time data insights.  
The platform is equipped with a vast range of out-of-the-box connectors and orchestration capabilities, enabling instant connections to hundreds of popular data sources. Its no-code environment and powerful drag-and-drop interface make it straightforward to build complex data integrations, eliminating the need for coding expertise. 
Comparison Overview
Airbyte

Integrate.io

Key Features

ETL/ELT
Data transformations using SQL or DBT
Connector development kit 
Open-Source

ETL/Reverse ETL
ELT & CDC
Low-code/No-code
Rest API

Pre-Built Connectors

300+

140+

Pricing

Free, open-source version & usage-based pricing, cloud-hosted version

Flat-rate or contact Integrate.io for enterprise pricing

Customer Support

No customer support for free plans; paid plan includes customer support

24/7 dedicated email, chat, phone, and Zoom support

Rating

4.1/5 (G2)

4.3/5 (G2)
Airbyte vs. Integrate.io: Key Features
Airbyte and Integrate.io are data integration tools that allow customers to extract, load, and transform data from various systems into their target systems. Here are the key features of each platform.
Airbyte
What makes Airbyte different then Integrate.io is that it's open-source, and its connectors are customizable. When working with connectors on Airbyte, users experience increased flexibility, but those who aren't technical might find the barrier to entry higher.
Top features:
300+ Pre-Built Connectors: Extract and load data from 300+ data sources to over 30+ destinations.
Data Transformations: Customize data transformations through SQL or DBT after data ingestion.
Connector Development Kit(CDK): Build custom connectors within two hours using Airbyte's CDK. 
Open-Source Connectors: Utilize built-in and user-created connectors that can be tailored to your specific needs. 
Integrate.io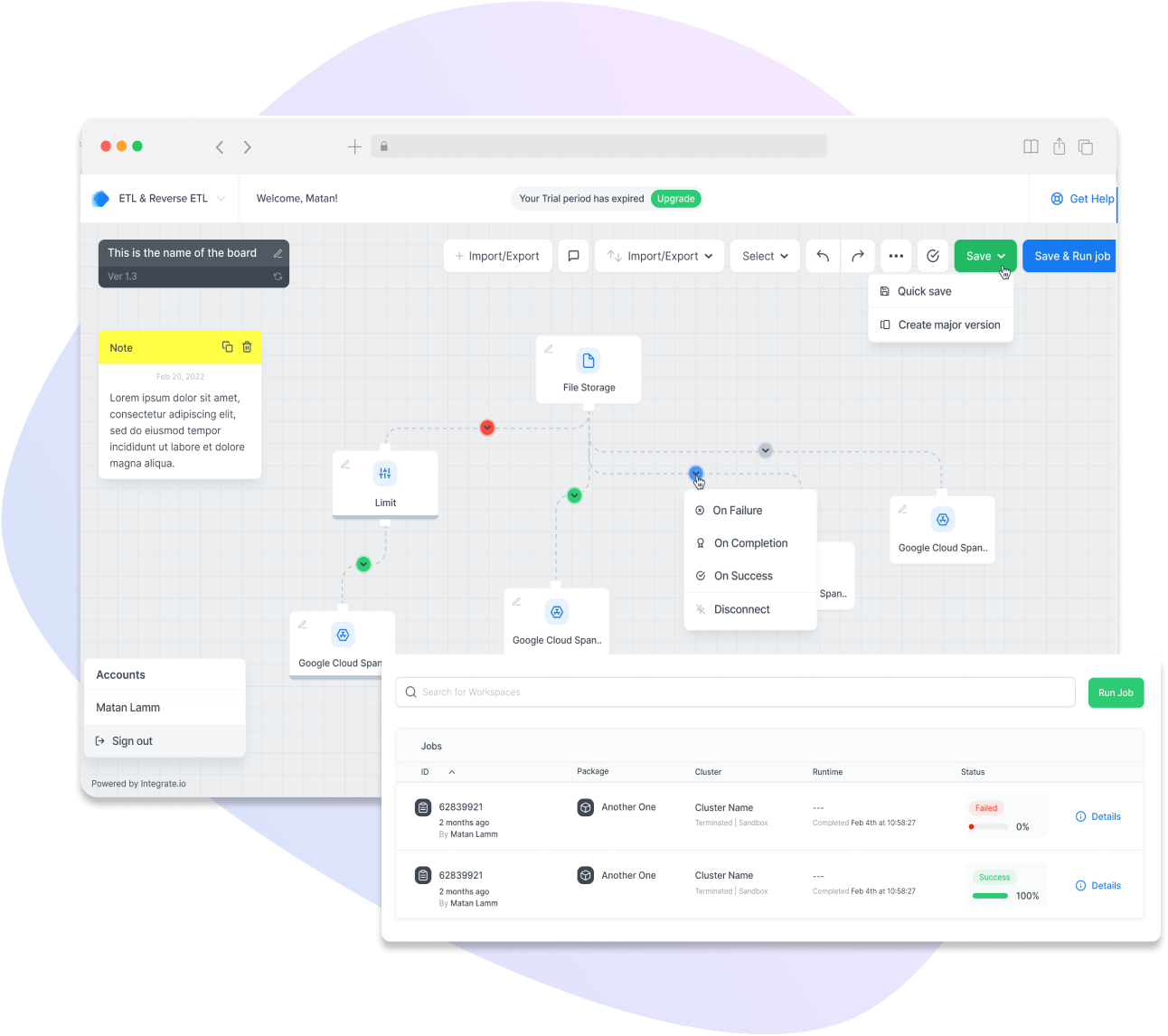 Where Integrate.io shines is in its easy-to-use, drag-and-drop user interface that allows non-technical users and advanced users, like data engineers, to manage and automate their data pipelines. Integrate.io simplifies data integrations and transformation and comes equipped with enterprise-grade ETL/ELT capabilities.
Top features:
ETL/Reverse ETL/ELT: Extract, transform, and load data from various sources to the system of your choice. When you're ready, you can load that data from your chosen system back to the source. 
Change Data Capture (CDC): Easily ensure your data is consistent with CDC capabilities.
140+ Pre-Built Integrations: Work with over 140+ built-in, ready-to-use integrations from the most popular sources, such as Amazon Redshift, Microsoft Azure SQL Database, Snowflake, and hundreds more.
Advanced-Data Transformation: Manage and transform in-pipeline data before it has been loaded, thus lowering computing costs, especially when working with large data sets.
Pre-Built Connectors
Pre-built connectors eliminate the need for custom code and manual configurations, making them a must-have feature of any modern data integration platform.
Airbyte: Airbtye has over 300 built-in and ready-to-use connectors. Since more than half of these connectors are maintained by the community, there are no promises that these connectors will continuously be updated or free of bugs. Additionally, some connectors may need some customization before being fully ready to use.
Integrate.io: Integrate.io has 140+ pre-built connectors from many of the most popular data sources and apps businesses use today. The connectors are available and ready to use right out of the box, making it one of the most efficient ETL tools on the market. Users can request a new connector anytime by visiting Integrate.io's integrations page.
Pricing
Pricing is one of the more critical things to pay attention to when comparing data integration tools. Pricing varies by platform—some platforms charge by usage, and others per connector. 
Airbyte
Since Airbyte is open-source, they offer a free, self-managed version of the platform. Customers can purchase support options on the self-managed plan, but pricing is not public. You'll have to contact their sales team to get accurate pricing information.
Airbyte offers a paid, cloud-hosted version of its platform available in two pricing models.
Free: Airbyte's free plan is titled the "Free Connector Program" and only applies to alpha and beta connectors, has unlimited volume and workspaces, and doesn't include customer support benefits.
Paid: Airbyte's paid plan is called the "Growth" plan and gives users everything in the free plan, plus some additional features like Checkpointing, Airbyte API, SSH tunnels, access to cloud support, and more. 
It's worth noting that the premium features available in the Growth Plan are not open-source. 
The Growth plan is on a consumption-based pricing model, costing $2.50 per credit. Credits are represented by the volume of data that is synched. Since costs are directly tied to usage, bills can be unpredictable from month to month. 
Airbyte offers an Enterprise plan, but you'll need to contact sales to get pricing. Airbyte offers a 14-day free trial.
Integrate.io
Integrate.io provides a straight and to-the-point pricing model. Unlike many of the other data integration platforms, Integrate.io does not charge by usage, making costs predictable for users. The platform charges a flat fee depending on the number of connectors you need. The starter tier comes with unlimited packages, unlimited transfers, unlimited users, daily scheduling, and two included connectors. The starter package costs $15,000 per year, with additional connectors costing $2,000 a year.
Customer Support
Reliable and available customer support is crucial when evaluating data integration platforms. If any issues arise, a dedicated customer support team can quickly resolve the issues and get your data teams back to managing their data pipelines quicker.
Airbyte
If you're on Airbyte free tier, you won't get access to any customer support. This could lead to problems down the road if your team doesn't have the technical resources to discover and remediate any issues. Since Airbyte is open-source, you may benefit from the community to resolve your issues, although there is no guarantee. 
To unlock any support options, you will have to be on Airbyte's paid plan. Their website states that paid users get access to "enterprise-level support." However, after reviewing their support pages, it doesn't seem as if they provide any commitments to response time or available hours. 
Integrate.io
Integrate.io offers unlimited global customer support available 24/7 via email, chat, phone, and Zoom. Unlike Airbyte, Integrate.io customers won't have to unlock support by paying more. Support is available to any customer on any pricing tier. The platform publishes its customer support statistics, boasting a two-minute average response time, a 51-minute average resolution time, and a 92% customer satisfaction score.
Ratings
User ratings offer valuable insights into the real-world, day-to-day performance of a platform. In this section, we'll compare how Airbyte and Integrate.io stack up against each other based on customer feedback and satisfaction scores.
Airbyte
Airbyte is rated 4.1/5 on G2 and seems to have mixed reviews. The more technical users enjoy using Airbyte due to its open-source nature. 
Tushar, a data engineer, wrote in an incentivized review: "I have been using Airbyte for the past 4 years and also involved actively in open source contribution. It is an awesome tool to schedule your batch and real-time jobs."
Many of the negative reviews cite that the platform has issues with scaling or intermittent issues with connectors. An organic review from a verified user states, "[There are] lots of intermittent issues on customer connectors." While another said, "Error handling isn't great."
Integrate.io
Integrate.io is rated 4.3 out of 5 on G2 and was recognized as one of G2's "Leaders" for all ETL tools in Fall 2022. 
The platform is well-received, with a recent review from verified user Jagadish, stating, "[Integrate.io is] one of the best cloud-based data ETL options available in the market."
Another user wrote, "There are always limitations to any application, but intergrate.io - Integrate.io has created very customizable integration features and data manipulation options. A non-engineer could use this product. It is user-friendly, and because of the app's documentation, help center, and descriptions, most people could start using this."
Airbyte vs. Integrate.io: Which Tool Is Right for You?
Choosing the right integration solution for you depends on your data team's needs, requirements, and desired functionality. 
Airbyte is open-source and has a large number of connectors available. If you have the technical resources available, you can also develop customer connectors depending on your use case. That said, if you're a small to medium-sized company that needs a free solution or has the budget to pay per usage, then Airbyte is the tool for you. 
Often, more of something doesn't always mean better, so be sure your company has the right resources to support the tool before investing heavily.
Integrate.io may have fewer connectors than Airbyte, but it makes up for that with its powerful ETL/ELT capabilities, easy-to-use interface, predictable pricing, and customer support. Integrate.io enables beginners and advanced users to create complex data pipelines without having to write any code through its drag-and-drop interface.
If you'll need real-time data syncing and have a more complex data analytics requirement, then Integrate.io might be the better choice for your organization.
Try Integrate.io's Data Integration Capabilities
Integrate.io is one of the most scalable ETL solutions on the market. The platform quickly allows you to connect data from multiple sources, then transform and load that data into the destination of your choice.
Try out Integrate.io for yourself by signing up for our 14-day free trial to see how it can help with your data management needs.